January Crèche
It was January 10 and the crèche still stood frozen along Main Street (which is Route 18) in Big Lake, Ohio. Mary and Joseph kept watch over Jesus, but they wondered about the late date.

"We are usually in mothballs by now," said Joseph. He pulled his cloak tight against the wind. Mary nodded in agreement. A shepherd in their midst was slightly irritated and brushed flecks of snow from his beard. It was Onam: "Yes, and I could wish that we were. December is icy, but the Christmas cheer at least warmed our hearts. It isn't any colder, but the icy stares are now nipping my spirits."

Another shepherd, Abijah ben Etham, agreed. "We are seasonal lepers, if the glances of the villagers mean anything."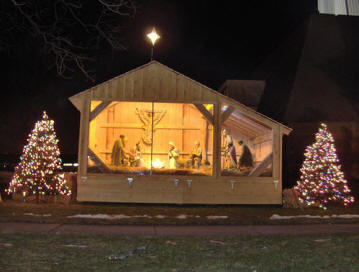 It was true. The rag-tag band of Bethlehemites (including Mary, Joseph, the child, Onam's men and several barn animals), seemed out-of-place in the gray yard. The Christmas cheer of two weeks past (when the trees had sparkled, the tinsel had wafted from downtown lampposts, and the air had twinkled with happy music) had turned to fog and the splattering of eighteen-wheeled caravans. The group had become, in the dreary words of Abijah ben Etham, "Scene one players on a scene two background."

It was an unspoken law the sad clan had given in to, that Christmas was never so gone as on December 26. "It's, like, over," Joseph always muttered. It was grace and grace alone (or the laziness of the yard's owners, or the bad weather) that kept them out until New Year's.

Mary, as usual, was optimistic. "These who keep us mean to prolong the Christmas spirit. They keep us out to say, 'Christ lives always.'"

Abijah ben Ethan, as usual, was less rosy."What Christmas spirit? It is a fine and dainty way of saying, Mary, that they've forgotten us."

"I think," said Joseph, "that the optimistic tack is best." Then his eyes dropped toward his tiny charge and he said, "What would the child have us do?" All eyes rested on the infant, and ben Ethan's balled fist relaxed back into a shepherd's hand.

"I suppose it could be," said Onam, "that the times are changing so rapidly for the worse that there is little stability left in the world, save for this humble message we, ourselves, have heralded."

Ben Ethan agreed. "The times are exceptionally troubling."

"Yes!" said Mary. "And that is why we are still here, then, isn't it? They will display us as a symbol of hope until real joy grips their hearts. How wonderful! Can it be true? Then the winds do not bother me so."

Several cloaked heads nodded in slow agreement. All that could trouble them now was the dark thud of door that Joseph heard first and that Mary, a second later, pretended not to hear. Onam knew the heavy footsteps. Abijah ben Etham knew the brown, cotton work glove that smothered his nose and mouth and lifted him high above Bethlehem. Joseph and Onam followed him higher, higher into a dark box balanced on a porch railing, where the familiar scent of mothballs convulsed them. Mary was grasped by her feet and set upside down into the box. At least the child was set on top of her, laid across her insteps.

Next came the thump, thump, thumping of booted feet on steps. It was to the attic, they all knew that. It was to the attic and another year of darkness and humidity, and of not being able to breathe or see.

On a sweltering summer day nearly six months after that, the child (ill-packed all these months atop his mother's insteps), suddenly rolled off his mother's insteps onto the belly of a donkey that was laying on the back of Abijah ben Etham. A person below would have heard the small thunk, except that it happened exactly on the evening of the Fourth of July, when those of the household were away at the village reservoir watching colorful fireworks. These fireworks, exploding then dying, were somewhat like the tinsel and the sacred music of the Christmas season, and like all other transient things bringing what the world calls joy into the chambers of dark and humid hearts.