Handfuls of Fur
How many young boys do you know these days named Ed?

NOT MANY.

How many girls do you know named Beth?

SO FEW.

Why have normal names gone the way of Dick and Jane books? Now kids are named Granby, Weston, Brandon, Nicole, Alicia, and Kayleigh.

ARE YOU TRYING TO TALK TO US ABOUT CATS AGAIN?

Maybe, maybe not. But listen to this: parents will throw darts at a map of Thailand and name their son "Khon Kaen" before they will name him "Ed." And yet, after all this trouble, these same people will not think twice about naming their cat "Mittens."

WE KNEW IT!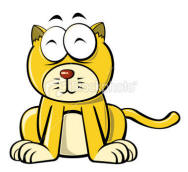 Oh, be quiet; this is important to me. In the time it takes you to read this sentence, 1,990 Americans will have named a cat "Mittens."

HEY, YOU'RE RIGHT.

It isn't like I haven't studied it. Naming a cat "Mittens" is like naming a dog "Bow-Wow," a parakeet "Polly," or a goldfish "Mrs. Paul."

WE DON'T TREAT OUR KIDS LIKE THIS.

You said it.

WHY DO WE EVEN BOTHER NAMING CATS IN THE FIRST PLACE?

Because it's a great name.

NO. WHY NAME CATS AT ALL?

Because it's another great name. "In The First Place," "At All"; I love these names.

NO. WHY DOES A CAT NEED A NAME? So pet doctors can make personal, targeted statements about the animal's health.

WE'RE NOT FOLLOWING YOU. "Bo Jangles is dead."

VERY WELL. BUT WHY DOES IT HAVE TO BE A DIFFERENT NAME? WHY CAN'T A CAT BE NAMED "MITTENS?"

Cats have a sixth sense about ordinary names that have befallen them. Researchers in Minnesota have subjected this hunch to experiments. These experiments have shown that cats named "Mittens" don't groom themselves as often as cats named, say, "Ripnuts."

WHAT ABOUT BILL? He doesn't groom himself at all.

NO. WE'RE TALKING ABOUT YOUR FRIEND BILL, THE ONE WITH THE CAT NAMED MUFFY THAT HAD FIVE KITTENS.

Oh. Bill realized his mistake after Muffy. Bill spoke to many of his co-workers about never repeating his terrible mistake. Bill was not about to name the kittens what his wife wanted them named.

WHAT DID HIS WIFE WANT THEM NAMED? "Mittens," Morris," "Boots," "Tabby," and "Muffnuts."

EXCEPT FOR MUFFNUTS, THOSE NAMES ARE KIND OF UN-ORIGINAL.

I'll say.

WHAT DID BILL NAME THE KITTENS?

Bill found his Rand McNally road atlas and opened it to Missouri. Then he closed his eyes and poked his finger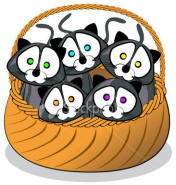 as randomly as possible five times. His wife, who felt very sorry about everything, wrote down where Bill's finger poked. These cities, then, were transformed into kitten names.

THIS DID NOT WORK!

Oh, yes it did. It worked for "Newburg," "Boonville," "Moberly," "La Grange," and "Kansas City."

IT'S SO NEW. AND YET WE LONG TO APPROACH IT, FOR WE HAVE CATS AND WE WANT TO DO OUR PART, ESPECIALLY AFTER HEARING ABOUT BILL. BUT WE ARE NOT AS CREATIVE AS HE.

You don't have to be. There are easier ways. Try the "physical observance" method, for instance.

OKAY. WHAT IS THAT?

It's a method whereby you base your cat's name on one of these three physical observances: looks, sex, personal habits.

ARE YOU PLAYING GAMES WITH US?

I don't even know you! Large laboratories have proven these techniques using scientific experiments. Suppose you want to name a cat by the looks method. You pick a name based on your first reaction to the animal's physical appearance.

GIVE US AN EXAMPLE.

A cat wandered into our yard one day. Deploying this method, I instantly knew that the cat's name would be Mudface. And it was.

THE METHOD APPEARS TO WORK! IT DOES APPEAL TO OUR CARNAL NATURE. AND YET—WHAT IS THE SEX METHOD?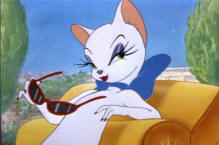 It has to do with sex and is trickier because you have to conduct experiments beneath the animal's tail. If the cat is female, you give it a very womanlike and sexy name. You name it "Sophia," "Marilyn" or "Madonna." If your cat is a male, you name it in a man-like manner. Male cats could be named "Burt," "Clint," or "Arnold Schwarzenneggar."

WHAT IF WE'RE NOT SURE OF THE CAT'S GENDER?

The cat may be named "Barry Manilow."

WHAT'S THE LAST METHOD AGAIN?

The personal habits method. Just find out what the cat does best and name it accordingly.

WHAT IF WE DON'T LIKE THE NAME "ACCORDINGLY?"

That's very funny. Do you want to learn now?

WE'RE SORRY. PLEASE GO ON.

My wife Melody and I once named a cat using the personal habits method. We had a cat that liked to dig its claws into human scalps. Melody tried out the names "Ripper," "Scratchmo" and "Scalpie."

THOSE ARE PRETTY GOOD NAMES. WHAT IS THE ADVANTAGE OF THE PERSONAL HABITS METHOD?

Think about it. The cat's name automatically warns people of its maladjustments. Melody and I believe

you would think twice before inviting "Old Leaky Brown" into your home.

YOU BET WE WOULD! WE CAN'T ARGUE THAT THIS IS A GREAT METHOD. OUR QUESTION IS, WHAT DID YOU END UP NAMING YOUR CAT?

I couldn't vote for "Ripper," "Scratchmo" or "Scalpie." The names were original, that's true, but I still couldn't do it. It was so much fun watching the cat dig its claws into unsuspecting human scalps. "Scalpie" would have given it away. In my mind, it would have put a damper on the fun. SO? So we named it "Ed."

TELL US ABOUT CALICO CAT.

There once was a cat who walked by herself. All places were alike to her in her satisfaction. You bring back these memories.

HOW DO YOU MEAN THAT?

I'll just never forget this Calico cat. I don't know where she came from; none of us did. One day she was just full of different colors and staring at us through the screen door with eyes made of chocolate and radar. Then out came a raspy "Mew!" This was a command for us to open the door, which we did. We picked her up beneath her armpits, which were sweaty. It was clear that she had been fed, and often.

And she would be fed again, too. By us. American cheese right out of the plastic wrapper, torn into small pieces. And a brand of cat food baked in special shapes that helped the food retain its crunchiness in milk. Or would she enjoy it dry?

Milk, please.

But where did you come from?

Not yours to know.

Then she clawed around our sofa, steering her way around it, even the corners. She found more speed along the straight-aways, somehow.

Don't you get dizzy doing that?

Yes, but it's worth it to me.

And then the big flowered chair in the living room became her enemy. I would say: "Get that big old chair!"

I will make it wish it had never been upholstered.

And she did, too, bouncing her belly on it, boxing the petals, biting the stems as well. Then she dismounted with an accidental somersault that she walked away from, pretending it was purposeful.

It was purposeful.

Right, Calico.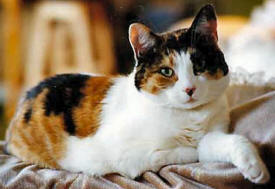 I don't know what came next, except maybe her rich soft skin that hung loosely from her bones with cat grease. It moved with our hands when we rubbed it against her bones with handfuls of fur.

What fur. Alive. So rich. It was very soft, very colorful, very lovely fur. It was a coat. That's what it was. It was a true coat.

I like my coat.

So do we, Calico. To stroke it is fun because you push into it to get more and more feeling from the stroke. The first stroke gets you to push, the second stroke makes you forget your composure and footing. The third stroke makes you purr.

You don't have any of those things figured out.

Yes we do, Calico.

You've seen Garfield's face: his two round ball-jowls with the pout in-between and the whisker stubs. That was Calico's face exactly.

Roll on the ground, you! Roll on your back, White-Belly! Barrel-Belly! I'll rub you there, on your belly, until I can fathom the miracles of your rib cage. I now call you "Co-Co" (like "Cocoa") because we're friends.

In a very loose sense of the word.

Where are you going, Co-Co?

To a window. To a sunny spot near a window.

Faithful pet. True pet. But she never let on that she was faithful pet, true pet, because it was always, I could do without you, probably. Or, I may leave you tonight, possibly. But always in the morning, it was the eyes of chocolate and radar at the screen door, the American cheese, the belly-rubs—

I tolerate the belly-rubs.

Sure, Co-Co.

Her Hartz 90-day flea collar was a token of ownership that reflected oncoming headlights for 300 feet. I swear it was a joy to her because she strutted with it on. She tried to duck from it when we first put it on her, but we told her that it was for her own good, that it was handsome, and that it would prove her an "owned pet."

I think the last part found her heart because she slathered me with chocolate when I said that, and for once did not argue. Then she strutted away toward the barn. I knew then just how important proof of ownership is (and, although Calico would never admit it, proof of love is) to a cat.

Melody's mom and dad had turned up the heater in their uptown apartment during our visit. For an October evening, it was cold. And when we drove home, it was dark.

I've often wondered at which happy moment that evening the car struck and killed my Co-Co. Why did the pain come all at once, when my headlights caught the flea collar lying askance in the road? Why did the pain come so hard, when Melody said: "No, no, not Calico. No!"

Why did death, in my hands, in my arms, have to be so heavy? Why did some of my tears fall on the road while others fell onto Co-Co's rich fur? Why did I keep having to say over and over again, "...precious friend, precious friend, my precious friend..."

Death doesn't move. It should move, you want it to move, it must move. But it doesn't move, no, not even on a porch beneath a naked light bulb wrapped in a blue blanket.

It was night. Melody and I did not yet have children, but Melody was large with our first son.

I cried hard onto my wife's lap, near where the baby was.

Today the boy loves cats. I kn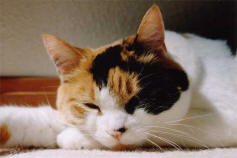 ow the exact spot beneath the apple tree where I laid my friend's body, that terrible body without life. I have not told the boy about it. The tree makes rich shade in the summer. We swing on swings beneath the tree and eat picnic lunches there.

And your son rolls over and you rub and rub his belly.

Yes! And you! Where are you going, Co-Co?

To a window. To a sunny spot near a window.

God bless you, Calico cat.